In this Flash tutorial you will learn how to add sound to a button. This tutorial is useful if you want to create a mouse over sound effect that can be used in flash websites, applications and games. For this tutorial i have used a sound effect of a cow which is avaiable at: www.findsounds.com

Adding sound to a button

Step 1

Create a new flash document.
Import your audio file into the library by selecting File > Import > Import to library then select your audio file and click ok.


Step 2

Create your button on the stage. I made a basic rectangle shape with a green colour and black stroke,but you can make whatever kind of button you wish.





Using the selection tool (v) select your button.
Convert it into a symbol by pressing F8 then give your symbol an appropriate name and check the "button" button then click ok.


Step 3

Double click on your sound button and your timeline should look like below:




Now select the over state and create a new key frame by selecting F6.


Step 4

With the over state selected go to the bottom of screen and choose your audio file from the drop down menu.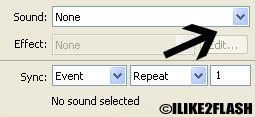 Step 5

Test your movie Ctrl + enter and move your mouse over the button.



You should now have a button with sound. Feel free to contact me for any questions or comments and remember to subscribe.