This Flash tutorial will teach you how to create a cinema style text effect. This will give the effect of text getting smaller and fading downwards. This effect requires no action script.

Cinema style text effect

Step 1

Open a new Flash document and select an appropriate stage size.
Select the text tool (t) and type your message on the stage. I used impact font type with red colour, but you can use whatever colour you wish.






Step 2

Using the selection tool (v) select your text message and right click and then select Break Apart. Now select break apart again and your text should contain little dots like below:





Step 3

Select the free transform tool (q) and then select Modify > Transform > Distort. Now select the bottom corners of your text message and drag each corner in turn inwards like below:





Convert your text into a symbol by selecting F8. Give your symbol an appropriate name, check movie clip and click ok.


Step 4

Select the your movie clip select filters at the bottom of the screen and then click the little blue plus sign and add a drop shadow. Now add the following settings:





You could alternatively use a knockout effect.


Step 5

On the timeline select the 40th frame and insert a key frame (F6). Now, move your text message towards the bottom of the stage using the selection tool.

Now select the free transform tool (q) and hold shift key and drag one of the corners inwards until the text message is about 1/3 of the size.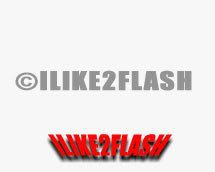 Change the colour properties of the movie clip to alpha at 0% and then right click anywhere in between the 1st and 40th frame and select Create motion tween.



You should now have a cinema style text effect. Feel free to contact me for any questions or comments.