I mentioned in a previous post that I had been given a copy of the Creative textFX component to review, but I had also been given a copy of the Creative movieFX, so in this post I will be reviewing this component. Creative movieFX is a Flash component that gives you over 280 movie clip effects which are available in three different kinds of transitions. The three transitions are fully customisable from the user interface, or from using Actionscript code.

The installation of this component is similar to the Creative TextFX component. If you are unsure of how to install this component then take a look at the post on installing extensions. When you have installed the component, create a movie clip on the stage and give it the instance name: movieFxExample_mc. I have converted the following free stock image into a movie clip.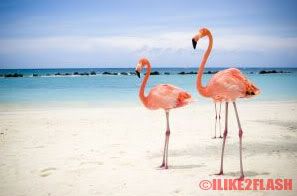 After select Window > Components then drag an instance of the Creative MovieFX onto the stage.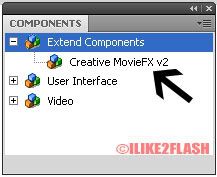 Now open up the MovieFx panel by selecting Windows > Other Panels > MovieFx V2 Panel. At the bottom of this panel you should see the 'Other options' menu which displays your movie clips instance as the target name automatically. This means your movie clip instance is the target object to receive the movie clip effects.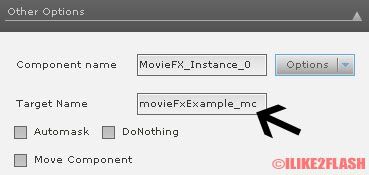 The movieFx panel as shown below is similar to the TextFx Panel. There are three different types of transition effects you can choose from which are: wait effects, in effects and out effects. These transition effects can easily be created from the intuitive and easy to use interface. An addition benefit is that every effect is fully customisable, so you can change the duration, easing type, fade, angle, rotations and many more effects without using any Actionscript code. There is also a filters effect panel for you to add visual enhancements to move clips, and an actions panel for adding custom behaviours.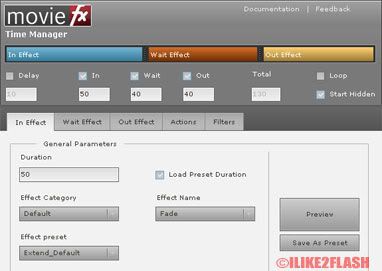 To sum up, Creative MovieFX is very easy to use, a unique movie clip effects can be created literally within minutes without using Actionscript code. The intuitive interface makes customising an effect very simple as you can select the option parameters from drop down menu. Below are some examples of movie clip effects using the Creative MovieFX.



For more information checkout the Creative MovieFX component at extendstudio.com.